This 15,800 square foot piece of vacant land is currently available for sale. Located on the SEC of W. Colfax Ave. and Reed St. in Lakewood, Colorado, 6990 West Colfax Avenue is loosely zoned for mixed-use, general and urban development (M-G-U). Plausible recommendations for development based on area size, amount of daily traffic and other formal demographics might include such businesses as a small cafe/bar, a liquor store, a quick service enterprise, a small apartment building, mixed-use retail, or small office as a few samplings of possibilities.
According to recently published yield, rental and occupancy rates for retail development which conforms to patterns of land use in this market area, such studies suggest demand is relevant and sufficient to support construction costs and to ensure timely absorption of additional inventory in this market. Thus, near-term speculative development of this site is potentially financially feasible according to such research.
Furthermore, with the nearby Wadsworth light rail station on Wadsworth Blvd. just south of West Colfax Ave. and with further growth in the area due to same, there is a greater potential for opportunity, especially in mixed-use, commercial/retail, as well as owner occupant build-to-suit retail or office space development.
Expansion in the Area – An Overview
6990 West Colfax Avenue is surrounded not only by established
neighborhood communities, but also by well-established and new enterprises that can have a direct influence on the success of this viable corner plot of land for sale in Lakewood, Colorado.
Amid significant improvements happening in recent years along the West Colfax corridor spanning from Sloan's Lake to Wadsworth, this area is starting to attract capital willing to make a significant investment in this area.
A short distance west from this property is located the newer Wadsworth Blvd. light rail station, a Walmart Supercenter, and The Home Depot.
Slightly to the north and east is the famous Casa Bonita experience and restaurant that has been newly purchased and completely renovated inside. Further, such fast food chains as Burger King, Sonic Drive-in, Chipotle Mexican Grill, Viva Burrito, Arby's, Panda Express to name a few have emerged. Nearing Sloan's Lake area has emerged King Soopers, Target, Chick-fil-A, and Walgreens. Further movement has opened up Planet Fitness, Family Dollar and Key Bank.
This area is growing exponentially year by year. The land offering is well-suited for having a high visibility rating amid the high-density traffic volumes daily and from the large populations of homeowners and apartment dwellers.
Please do not hesitate to call us for more information regarding this opportunity that has just recently opened as land for sale.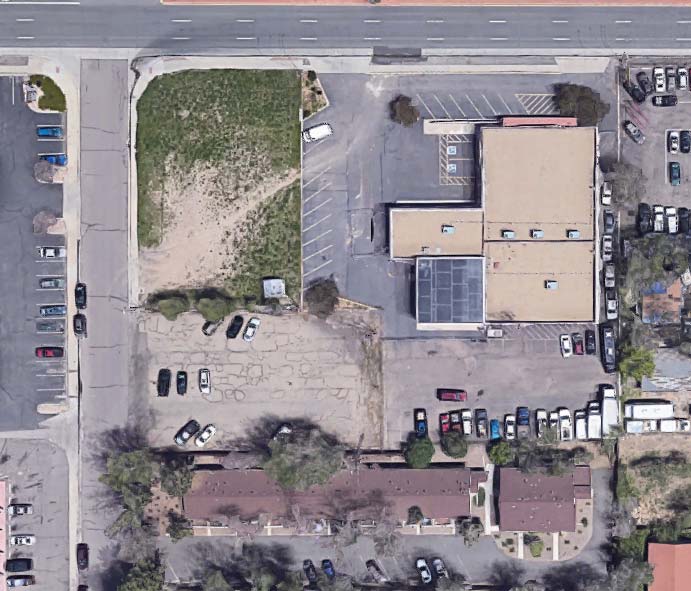 15,800 sf – Land for Sale
Asking Price: $350,000 or 22.15 psf
Location: SEC W. Colfax Ave. & Reed St.
Gross Land Area: 0.36272 acres or 15,800 sf
Usable Land Area: 0.36272 acres or 15,800 sf
Usable Land %: 100%
Average Depth: 162.59 feet
Utilities: All are to the site
Topography: Level
Grade: At street grade
Visibility: Average to good
Zoning Jurisdiction: City of Lakewood
Zoning Classification: M-G-U (Mixed Use-General-Urban)
Other Info: Enterprise & Opp Zone
Information contained herein, while not guaranteed, is from sources believed reliable. Price, terms, and information subject to change.