Commercial Acreage Available
20 Acre Development: In its entirety or in parcels.
East 112th Avenue at Tower Road has recently opened its twenty acres of land for sale, either to be sold in its entirety or split into select parcels. As one of the fastest growing submarkets in the north Denver metropolitan area, this available land in Commerce City is already surrounded by explosive residential home development projects, which have been and are still being constructed at breakneck speeds. So far, well-over 8.400 existing homes and condos with an additional 26,600 plus units are already approved for further development, and more are planned for the near future.
Being approximately 14 miles away from DIA and only a 25 minute drive to downtown Denver, as well as the dense populations in the surrounding communities makes this property an ideal location for mixed-use commercial enterprise.
Important: This area is hot! Become one of the few who will get in at today's prices. Take advantage of the possibilities as insurance against future competition.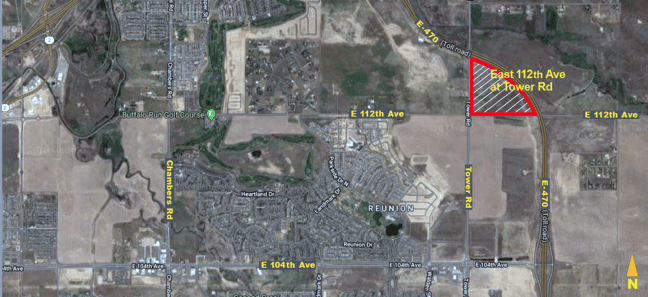 Total Land Area: 20 acres
For Purchase: Entire Acreage or Select Parcels
Entire 20 Acres: $3.75 psf
Split into Separate Parcels for Sale / Price Rage: Priced Accordingly
County: Adams
Submarket: North Denver
Zoning: Mixed-Use Commercial (includes all retail uses, including big box anchors – call for details)
Sewer and Water at Site
Roads: Currently in planning stages for construction (see brochure)
Information contained herein, while not guaranteed, is from sources believed reliable. Price, terms, and information subject to change.